I'm marking 14 years as a storyteller to organizations by celebrating  my clients' storytelling journeys. Today, I turn to Cbeyond, a leading business technology ally, to learn about its innovative use of enterprise social networking. 
Cbeyond's character and culture have long embraced engaging employees, through the example of Cbeyond's Founder Jim Geiger, who talked about his company's character-driven culture and the role of communication at a September 2011 IABC Atlanta meeting. Jim founded Cbeyond in 1999 out of a desire to change the dynamic for small and mid-sized businesses under-served by other communications providers.
It's not surprising that Cbeyond became an early adopter of social enterprise networking tools to bring employees together, deploying Yammer company-wide in October 2011. Within a year, its Yammer community swelled from 400 to 1,600 members.
"Our vision for our social enterprise network is to help Cbeyonders collaborate more across functions, manage projects better and create a community. At the corporate level, we use Yammer to create a dialogue around our corporate strategy and initiatives – it's all about being more transparent and open about what we're doing," says Amy MacKinnon, Cbeyond Internal Communications.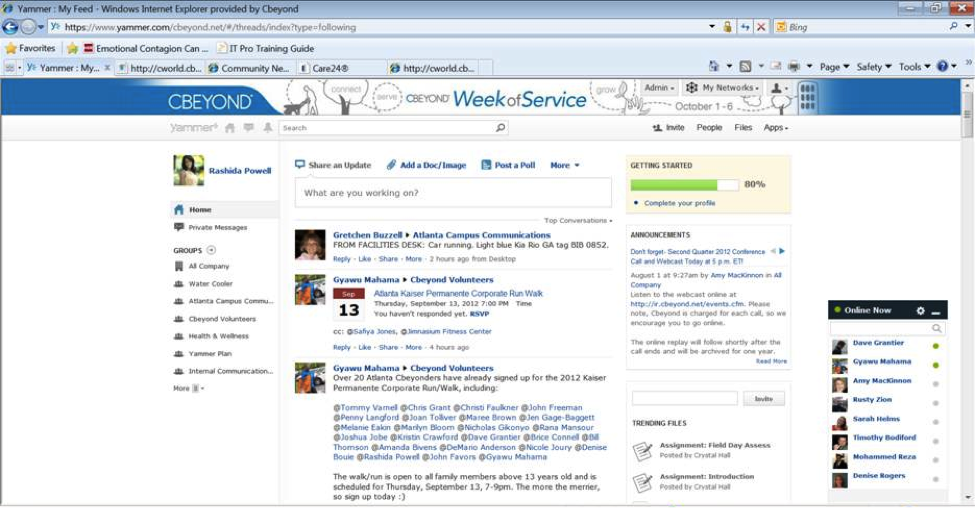 For Cbeyond's one-year anniversary on Yammer, the internal communications team  unveiled "31 Days of Yammer", a highly engaging campaign that included a host of activities, from daily tips to weekly contests such as the "Get Your Yam on from ANYWHERE" contest, where employees were encouraged to download Yammer's mobile app.   
The month-long celebration coincided with Cbeyond's annual "Week of Service" held in October when employees from all 15 markets engage in volunteer activities in their communities. They were encouraged to post pictures of their volunteer efforts using the #2012WeekofService tag.
"Uploads on Yammer hit the roof that week," recalls Rashida Powell, then-manager of the Yammer channel for Cbeyond, adding that adoption rates of Yammer have continued to grow.

Yammer's own blog credits Cbeyond's "31 Days of Yammer" campaign that it covered in 2012 as a best practice for organizations to overcome "business as usual" and continue to create buzz and grow adoption for Yammer after the initial launch.
"This effort was born when Cbeyond celebrated their month-long Yammer anniversary, and has evolved as other community managers were inspired to deliver their own and iterate on the approach," the blog post stated, citing Manhattan Associates embarking on its own '31 Days of Yammer' to uncover great work, celebrate successes and coach employees on working smarter and faster.
Cbeyond has continued to build momentum through feature campaigns in 2013, with themes such as a health-and-wellness for January, celebrating Cbeyond's Character in February, and Going Green in April to coincide with Earth Day.  
"This campaign was the launching pad for getting really focused on leveraging social enterprise networking as a strategic engagement tool," Amy concludes.