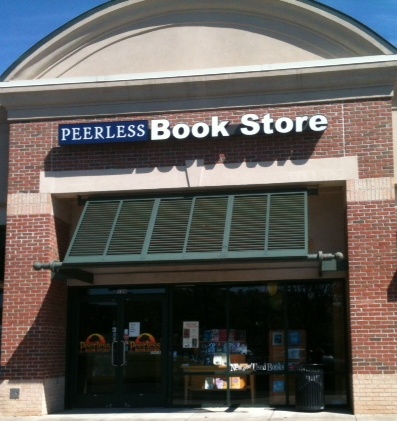 Today, The Writing Well features local Atlanta author Stephen R Drage, an entrepreneur and award-winning public speaker. Stephen is a gifted storyteller, who is working on the second book in his Mud Lane series, which he describes as "comedy nostalgia about growing up in England."
A member of my writing group, Stephen wrote the following short story right after Atlanta independent book retailer Peerless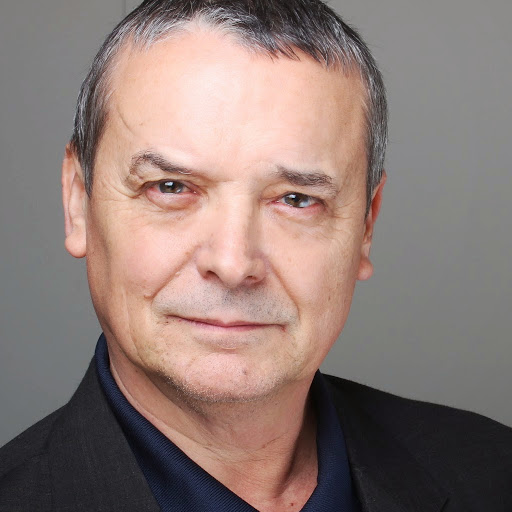 Book Store closed its doors earlier this year. The news of the store's demise hit the Atlanta writing community hard and our group especially hard. Peerless's owners, including fellow writing group member Susan Jimison and her husband, Mike, were advocates and friends to Atlanta's author community.  Losing an enclave that supports indie and established writers is always distressing, especially since Peerless was a gathering place for both writers and readers who love good stories. It makes one wonder what is to become of local bookstores when even big chains such as Barnes and Noble are struggling to survive against the might of Amazon, so well articulated by economics writer Megan McArdle in an article posted last February in The Daily Beast.  I leave you with Stephen's eloquent and haunting goodbye to a very special place.
_________________________________________________________________________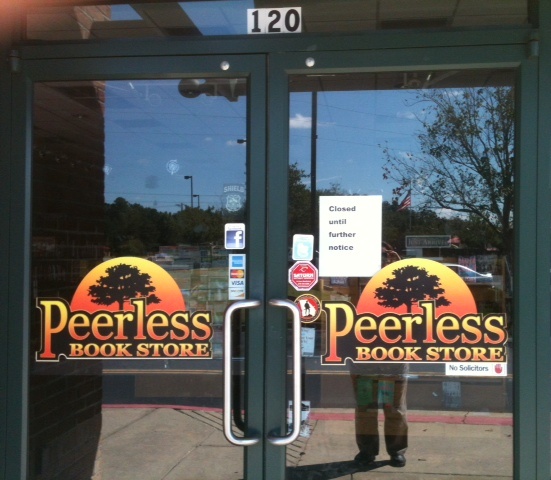 A somber cloud of doubt and despair settled like a layer of dust on the shelves at Peerless Book Store. With several other of the store's hardcore devotees, I stood in shock – as if at a small graveside gathering – mourning the passing of what had become a second home.
The shop had been the community cornerstone, a retreat for writers and readers and the lucky ones able to step into the stuff of imagination and build worlds. But tomorrow the vultures would come with padlocks and red closure signs. Accountants' practiced eyes would then perform their dubious calculations, and the soul of the bookshop would be auctioned away.        
I found myself choked with sadness  by the image of the shop's owners, their normally cheerful countenance surrendering to a hopelessness that their brave exterior couldn't quite mask. It didn't feel real. I had been absorbed into one of a thousand stories that lined the shelves.
Chance might have assigned me a home in yellowing, adventure-filled pages where I could assume the role of a pirate captain, a daring explorer, or a brilliant detective. Instead, I had silently slipped between the leaves of a tale of loss and unwillingly accepted my part as the awkward bystander, unable to find words of consolation or encouragement. I wanted to frantically turn to the end, to discover wrongs had been righted and the shop was open for business the next morning.
But the unforgiving rules of time trapped me in a painful now.    
A small boy shuffled in. Only 10 or 11 years old, yet I'm sure he sensed something was wrong. After a cursory lap of the store, he approached one of the owners, George, unaware of the mental geography that separated them.
"Er…do you have any good books about zombies?" the child said hesitatingly.   
"Good books about zombies?" replied the bookseller, emphasizing the word good and demonstrating that, despite the aching avalanche of circumstances, his sense of humor remained intact.
"Well…they don't really have to be good," replied the boy.
There was a long uncharacteristic pause from the owner, where it seamed to me he was forming about half a dozen replies simultaneously. I know George, and I knew what he wanted to say was;
"Yeah, kid. You like zombies? Hang around here for a few hours and you'll see some. They'll be here in the morning. Dead inside, uncaring and unfeeling as they dismember and consume this store. A business that has absorbed its share of sweat and tears and struggle, yet it was still able to provide joy and entertainment to thousands. They'll come and unmake all that, driven on by a column of numbers and the need to destroy, as they tear this place apart book by book, to be parceled and packaged and sold off to the highest bidder. You want monsters, you're in the right place."
But maintaining his dignity, all George said was, "No, not really. Sorry."
The boy ambled out.
The owner continued boxing up some rare used books.
And then it struck me that this was just another story, a mere thread in the tapestry of life's elaborate unfinished script, the end of which had not yet been written.
I could but hope this was merely the end of the eleventh chapter.
#          #          #