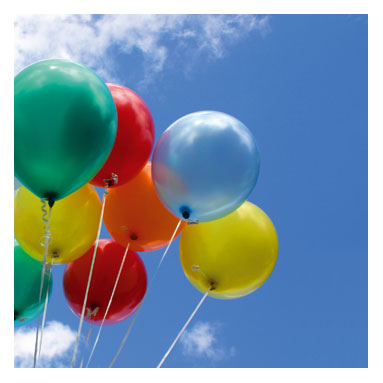 This beautiful tribute to the late Cindy Gwynn, who passed away last January after an eight-year battle with breast cancer, was written by her younger sister, Marcia Coatsworth. Marcia graciously allowed me to post it here on The Writing Well. 
I am honored to be connected with Cindy and Marcia and the rest of the Coatsworth's through my husband's family. We have enjoyed many Thanksgivings together at Marcia and Cindy's dad's home. Their mother, Marian, was one of the moms featured in a memoir I penned after losing my mom to lung cancer.  If you ever have lost someone close to you, you will identify with this very personal reflection of a much-beloved and much-missed sister. Thank you, Marcia, for sharing. 
In my mind's eye there is a sea of helium balloons tied with streams of curly ribbon.   Deep in color, dancing, each taking on a life of its own, collectively named Cindy.
Randomly I pick one out of the bunch, each in turn my favorite color.
Blue, her personal favorite, the color of her eyes.  Her eyes, expressive, knowing and caring.  Ever watchful not to miss a small detail that could make a difference.  A difference perhaps only detected by her and that was what mattered.  Look deeply into the baby blues and you would find a wealth of information carefully stored to be used at the right time.  Eyes that smiled with softness when shown even the slightest gesture of kindness or unsolicited recognition.  A steely grey/blue when unfairness entered her line of sight or aggravated by events beyond her control.
Gosh, I just want to hold on tight to all of the beautiful balloons.  Keep them in my sight to enjoy all by myself.  Yet at the same time what a glorious sight to see all of them take off in a gentle breeze making their way into the limitless sky, representing never ending life.  Set free from the grasp of human life to rejoice in a place without pain, fear, heartache and sin.  A place where each color has its own reward and leaves behind its own memory.  A long life-short lived, serving an awesome God, finding the perfect resting place, well deserved.
Black the darkest of all the balloons, unwelcomed.  The balloon that hangs the lowest because it is so heavy representing Cindy's darkest thoughts sometimes shared with me.  The regret of leaving her son and the shock of leaving so suddenly looms.  Finding numerous copies of "Gone From My Sight-The Dying Experience" and" My Friend, I Care-The Grief Experience," both by Barbara Karnes.  In an adjoining envelope countless sayings, poems and thoughts of life and death copied at some time or passed on from someone who knew of her struggle.  The heaviest balloon takes flight the quickest because Cindy's work and worry here on earth are done.
9/27/11   I wrote the above shortly after Cindy's passing.  I stopped writing because of the pain it caused me.  I put on my "to do list" to finish "My Balloon Bouquet" when I was ready.  I look back at the grammatical errors hi-lighted in annoying colors and ignore because it is how I speak and write "Mississippianease."  Look that one up in the dictionary….let me know what you find.  Here is my attempt to finish the arrangement on a beautiful running day that reminds me of her.  As I let the rest of the balloons go, here are my thoughts.  I can't help but notice the difference in the thoughts.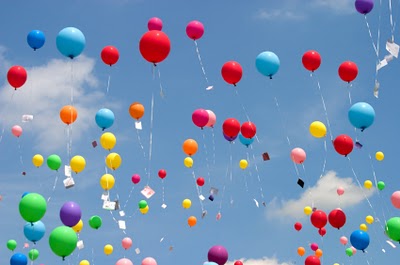 Pink — a tenderness presented at times in a prickly package because that is how she chose to show her emotions. 

 

A softness easier seen on her face rather than in a hug from an older sister to a younger one, knowing, caring and accepting.
Yellow — the carefree, fleeting times of youth, health, learning and enjoying simple things.  An unburdened time of discovery, growth and anticipation of "what's next" shared like co-conspirators.  
It is a happy color associated with my sister because of the joy she brought to my life.
And then there is Green — calming, life giving and one of mama's favorite colors.  
The color of money that held less value to Cindy than time on earth with the one she loved.

White — the color of angels with gold dust on their wings. 

 

Cindy, my angel, forever watching over me. 

 

She still hovers over me while sleeping, running and my daily attempt to get it right.

 

 

Purple — vibrant, strong, a stand out in any crowd as Cindy was. She didn't demand respect but received it because of how she lived her life and the friend that she chose to be.

Orange — somehow an unnoticed contributor to a group, unsung but ever present; wow, that was my sister. 

 

She brightened up a group just by being there, didn't expect to be noticed but was.

Silver — as in there is a silver lining. 

 

I have come to believe that in my sister's death that there is a silver lining.
She stayed with me long enough to kick me in the behind enough to say, "I can do it," whatever that looks like.  That was her job, you know!  I miss her like crazy but I rest in knowing she is where I hope to be one day.
With that I say goodbye to my old thoughts of colors and look to a renewed colored vision of the future.  "Colors of Life"…a chapter or book….. yet unwritten.