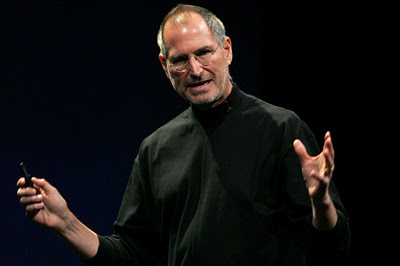 Steve Jobs (1955-2011)
Steve Jobs was an iconic visionary who transcended technology. He was both an out-of-box thinker and a creative genius.  Because of him, we are more connected than ever before with devices that feel like an extension of who we are.  Much of the revolution in entertainment and mobile communications was sparked by this California son, who was born the same year the first radio transistor radios came on the scene and the world first heard of Velcro and Lego.
In his all-too-short 56 years, Jobs envisioned and marketed the first personal computer, the iPad, iPhone and other innovations. His goal? To make products that were at "the intersection of art and technology." He succeeded and along the way, helped transform Apple into the world's most valuable company.
Jobs also bought a Lucasfilm animation property, and renamed the company, Pixar. In 1995, Pixar's Toy Story became the world's first completely computer-animated film, and sparked a new standard and market for CGI animation in films.
"Steve Jobs was an extraordinary visionary, our very dear friend and the guiding light of the Pixar family," stated John Lasseter, Pixar co-founder and now chief creative officer at Pixar and Disney Animated Studios. "He saw the potential of what Pixar could be before the rest of us, and beyond what anyone ever imagined. Steve took a chance on us and believed in our crazy dream of making computer animated films; the one thing he always said was to simply 'make it great.' He is why Pixar turned out the way we did and his strength, integrity and love of life has made us all better people."
"The world rarely sees someone who has had the profound impact Steve has had, the effects of which will be felt for many generations to come," Bill Gates said in a statement today.
What can be said that hasn't already been articulated about Jobs? An appropriate farewell is to listen to what the man himself wanted us to know, in his own words…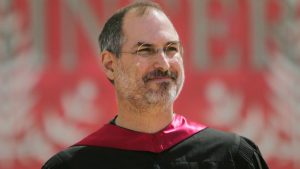 "No one wants to die," Jobs told graduates at Stanford during his famous 2005 Commencement address in what has become the most watched Commencement speech in history. "Even people who want to go to heaven don't want to die to get there. And yet death is the destination we all share. No one has ever escaped it. And that is as it should be, because Death is very likely the single best invention of Life. It is Life's change agent. It clears out the old to make way for the new. Right now the new is you, but someday not too long from now, you will gradually become the old and be cleared away. Sorry to be so dramatic, but it is quite true.
"Your time is limited, so don't waste it living someone else's life. Don't be trapped by dogma — which is living with the results of other people's thinking. Don't let the noise of others' opinions drown out your own inner voice. And most important, have the courage to follow your heart and intuition."
Find what you love and pursue it…that is his legacy to all of us.