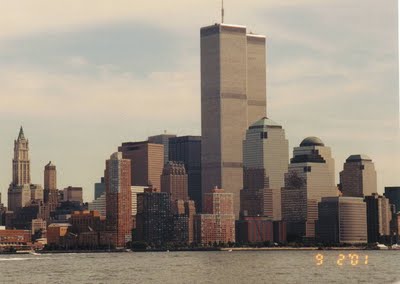 A view of the Twin Towers nine days before September 11th.                           Photo by Anne Wainscott
Like everyone in my generation, I remember exactly where I was when the planes hit the Twin Towers 10 years ago today. I was at home preparing for my work day when my phone rang. It was a good friend who worked at NYU, urging me to turn on CNN. My sister and I watched in disbelief with the rest of the nation as the reality of what was happening in New York, the Pentagon and in the skies above a patch of Pennsylvania farmland came into shocking focus. We learned as a nation that we are vulnerable to attack.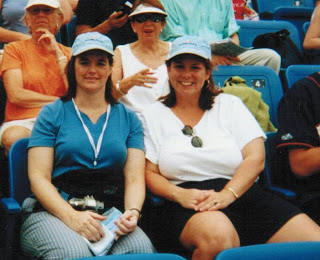 Nine days earlier I was in NYC for the US Open with a good friend from Mississippi. I remember how beautiful the sky was and how much fun it was to be visiting the Big Apple — a place I had come to know well while living in New Jersey.
On Sept. 2nd, my friends and I took the ferry to New York from New Jersey, and walked through the massive lobby of both the North and South towers to find where to stand in line to go to the top. As a group, we decided it was too beautiful a day to wait in line for two hours. Instead, we headed to Central Park. Who knew that was the last time we'd ever have a chance to see Windows of the World or to glimpse New York City's skyline from the Towers? In retrospect, I am glad I didn't go up as I would have relived the horror of the trapped people in those offices until my dying day.
A lot has happened to our country and to our view of the world in the decade since 9/11. We have seen many more Americans pay the ultimate sacrifice in the fight against terrorism. We have seen the mastermind of 9/11 brought to final justice. At the same time, the events on that Tuesday morning were a wake-up call that we cannot escape from. We will never look at air travel the same way as we did before 9/11. We are more cautious and more watchful. But the essence of our country is intact — the American spirit — to live our life — and to ensure our children can live their lives — in liberty and freedom.
I pray for everyone who lost a loved one on 9/11 and to those who continue to serve our country, whether as soldiers or as first responders. This is a day for us to pay tribute to those who lost their lives, to be thankful for our communities and our families,  and to renew our sense of unity and commitment to our country. God Bless America!