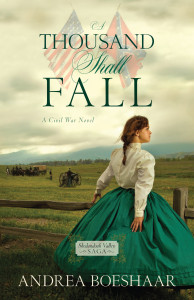 Today, The Writing Well turns from horror and zombie apocalypse writing to the polar opposite genre of Christian romance writing set against the backdrop of the American Civil War.
We examine the latest work of Andrea Beshaar, a veteran romance novelist, writing coach, grandmother of five, and co-founder of American Christian Fiction Writers.  Her newest book, A Thousand Shall Fall: A  Civil War Novel, opens in autumn 1864 in the heart of the Shenandoah Valley of Virginia, a 50-mile swath of fertile land situated between the Alleghenies to the west and the Blue Ridge to the east.
The book explains the significance of the Valley, whose rich stores of grain earned it the name the "Breadbasket of the Confederacy." Of equal importance was the Valley's role as a crucial transportation network for the South (General Thomas "Stonewall" Jackson once said, "If the Valley is lost, Virginia is lost.")
The book's heroine, Carrie Ann Bell, shows plenty of pluck as a protective older sister and aspiring journalist eager to follow in her father's footsteps. She is trying to keep her papa's newspaper alive after he leaves to chronicle the war for the Confederacy,  She and her two sisters and her mentally unstable stepmother are forced to move into a disreputable inn and to work as servers for their board and keep when they come upon hard times. While there, Carrie Ann meets Colonel Peyton Collier, an injured Union cavalry officer, whose gentlemanly conduct moves Carol Ann to provide medical care in spite of their divided loyalties.
Months later, Carrie Ann learns that her younger sister has run off, so she disguises herself as a Yankee soldier to find her.  The last thing Carol Ann expected was to run into Colonel  Collier, who immediately arrests her for impersonating an officer, but,remembering her kindness to him, shields her from worse punishment. As the two spend more time together, Carrie Ann and Peyton begin to fall in love.  But, things aren't quite as simple as they seem, as Carrie Ann struggles to reconcile her feelings for the cavalry officer with loyalty to family and her best friend,  Joshua, a major and Confederate spy.
There were times while reading A Thousand Shall Fall that I would have liked more romantic tension and struggle between these two characters, even in the context of this being a Christian love story, but overall it was still a compelling read.
I thought the author's  secondary characters, particularly the colonel's spinster aunt (who takes a lot of heat from her neighbors for being an abolitionist with Northern sympathies) and the aunt's old rival, Mrs. Monteague, a pampered and stalwart defender of Old Virginia, were well crafted and engaging.
I would have liked to have seen a similar amount of depth devoted to the narrative around Carrie Ann's family– as a reader, I didn't feel vested in the missing younger sister because I never got the sense that the sisters were close.
What was well developed was the battle scenes (including the horror of war as experienced by civilians) as well as the historical detail. I applaud Andrea for weaving in historic military figures such as  Union General Philip H. Sheridan and the elusive Confederate Calvary commander John S. Mosby, the Gray Ghost.
Below, The Writing Well, asked Andrea about her writing inspiration and what she hopes readers get from her latest work. I for one highly recommend this story, especially for fiction lovers of Civil War history. A Thousand Shall Fall is set for release on Nov. 27.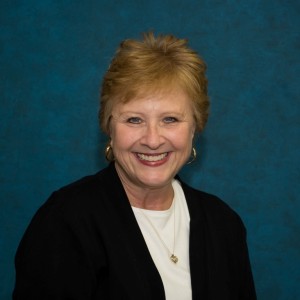 THE WRITING WELL: What draws you to Christian romantic fiction as a writer and to the Civil War time period specifically? Is that your favorite time period to write about?
Andrea Boeshaar: I used to love reading secular romances when my sons where young. In the 1980s, I decided to try my hand at writing secular romance. However, after I became a Christian, I felt personally convicted about writing stories that didn't honor the Lord Jesus Christ. I began reading novels published in the Christian market. At the time, there weren't many out there. The market has grown by leaps and bounds!
As for the Civil War – my father was a CW enthusiast and as a child I remember walking through the Vicksburg Battlefield. I didn't appreciate that trip until I was older. My father was still alive when my first novel was published in 1994. He read it, although as an associate professor at a local university, Christian romance wasn't his cup of tea. However, I think my father enjoyed the amount of historical facts I blend into my stories. So many Civil War novels skirt the war, specifically avoiding battles. I decided to tackle the time periods. When I do research, I become engrossed in it and my characters evolve from it. I've written novels and novellas in all different time periods, including contemporary fiction, but it's always here in the United States because my true passion is American history. In the same vein, I read all sorts of Christian fiction – and some secular fiction too.
THE WRITING WELL:  What character do you most identify with in A Thousand Shall Fall? What techniques do you employ to give your characters their unique voice?
Andrea Boeshaar: I identify with Aunt Ruth. She's a little quirky and manipulative, but she does what she does out of a fierce love – and out of spite for her next door neighbor. Personally, I've got the quirks, but I'm not manipulative. However, I love my husband and sons fiercely and my daughters-in-law could probably tell you a few interesting tales about tangling with me.
THE WRITING WELL:  The setting and historical references in your novel really put me as a reader into the time period of the Civil War. I especially admired how you exhibited the animosities and loyalty of people who were neighbors, friends etc. before the war but who now were fighting on opposing sides of the war. How important is research to getting the atmosphere and details right to make this kind of novel authentic to history buffs?
Andrea Boeshaar:  It's extremely important! As I mentioned above, I get an idea for a story and immediately begin researching it. My characters evolve from it. I've read Mary Chestnut's diary and Sarah Morgan's diary and then I got a feel for how people spoke and wrote back in the 1860s. I read Shelby Foot's books on the Civil War and James McPherson's book, "What They Fought For." All the while, the idea of my novel percolated in my brain. The same system works for any time period I choose to write in. But what is essential is to visit the location (if possible) as I'm writing. When I do that, my entire story comes alive to me.
THE WRITING WELL:  I loved Aunt Ruth – do you have plans to write a "prequel" to A Thousand Shall Fall that captures some of her story and that of her loyal servant Tabitha and rival and neighbor, Frances?
Andrea Boeshaar:  I'm glad you liked Aunt Ruth. At this point, no, I don't have plans for a prequel, but that doesn't mean I won't eventually write one. I think it would be fun!
THE WRITING WELL:  What do you want your readers to get out of this story – and your other novels?
Andrea Boeshaar:  My prayer is that readers see the transforming power of God in my characters' lives. Jesus wants us to come to Him as we are, in humility and brokenness. We can never be good enough to come to Him. Jesus, Himself, said that He came to save the unrighteous, not the righteous. So that's what I hope – I hope this story is faith in action.
THE WRITING WELL:  What's next for you in terms of writing projects?
Andrea Boeshaar:  Currently, I'm writing book two in my Shenandoah Valley Saga. It will release, God willing, November 2016; book three in November 2017. I also signed a three book contract with Prism Book Group to write three shorter contemporary romance novels. In addition to my writing, I own a corporation called Pink Ink, Inc. I'm an Avon Representative, which is proving to be so much more than selling lipstick to my neighbors. It's becoming a ministry! And I operate Steeple View Coaching and Writer's ER. So…I'm busy and staying out of trouble.