Today I want to extend a happy birthday to three accomplished writers who were born today:
·
Ruskin Bond
  78, Novelist, Short Stories, Children's Literature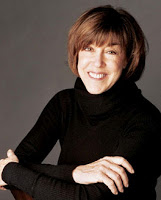 Ephron, a Wellesley graduate born in New York City to screenwriting parents, is best known for her romantic comedies. She's a three-time Academy Award nominee for Best Original Screenplay for When Harry Met Sally, Silkwood, and Sleepless in Seattle, which she also directed.
Her novel, Heartburn, based on her stormy marriage to reporter Carl Bernstein of Watergate fame, was brought to the screen in 2004 by director Mike Nichols, Meryl Streep and Jack Nicholson.
Her book, Crazy Salad, is a funny, deceptively light look at a generation of women (and men) who helped shape the way we live now.
I recently shared a copy of her 2006 book, "
I Feel Bad About My Neck
," published by Knopf, with a friend after learning she had breast cancer. The book takes a candid, hilarious look at women getting older and dealing with the tribulations of maintenance, menopause, empty nests, and life itself.
Quotable Quotes:
"
I try to write parts for women that are as complicated and interesting as women actually are.
"
"… the state of rapture I experience when I read a wonderful book
is one of the main reasons I read;
but it doesn't happen every time
or even every other time,
and when it does happen,
I am truly beside myself."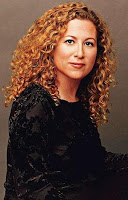 Jodi Picoult, who studied creative writing at Princeton and later
earned her master's degree in education from Harvard University
, is the bestselling author of 18 novels, including Songs of the Humpback Whale (1992), Harvesting the Heart (1994), Picture Perfect (1995), My Sister's Keeper (2004), Nineteen Minutes (2007), House Rules (2010).
In her most recent book, Lone Wolf, published by Simon & Schuster in 2012, a s
cientist and wildlife activist, who has made a lifelong study of wolves, now is in an irreversible coma following a car accident. His estranged family must decide if the plug should be pulled.
According to the Dictionary of Literary Biography, Picoult has been characterized by critics as a women's fiction author; she contests this label, however, citing her popularity with both male and female fans. Her novels cross many genres, including literary fiction, legal thrillers, psychological portraits, romances, and ghost stories.
The Long Island native now lives with her family in New Hampshire.
Quotable Quote: "
If a woman writes about family and about the connections between people and what it means to be alive in this day and time, it's called women's fiction. And if a man does it, it's nominated for a National Book
Award
. What – you can't have a heart and penis? That doesn't make sense."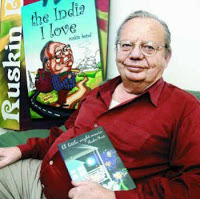 Ruskin Bond, a native of India, wrote his first novel, The Room on the Roof, when he was 17. It won the John Llewellyn Rhys Memorial Prize in 1957. Over a 35-year writing career, he has written more than 100 short stories, essays, novels and more than 30 books for children. Bond's writing is greatly influenced by the hills, and the valley of Dehra Dun, where he spent his childhood.
"I always wish to live life like Ruskin bond. A writer, a hermit, who lives on hills (Mussoorie, Uttaranchal) in an old rustic house, who knows about each nook of the place where he dwells," writes blogger abhilasha, in her post,
The Name is Bond…Ruskin Bond
. "His writings are like the fresh breath of air. Short stories by him are always woven delicately with simplicity and magical charm. Nothing peculiar, mysterious or radical thought but they are about the things which we are bound to miss in our hectic lives and there only lies the real elixir of life."
Quotable Quote: "People often ask me why my style is so simple. It is, in fact, deceptively simple, for no two sentences are alike. It is clarity that I am striving to attain, not simplicity."