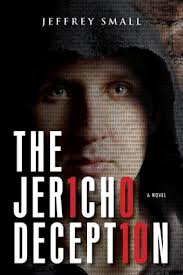 I enjoyed meeting thriller novelist and history lover Jeffrey Small when he spoke to the Atlanta Writers Club earlier this fall.
His first novel, the best-selling thriller, THE BREATH OF GOD, won the Nautilus Book Award Gold Medal for Best Fiction and was hailed as "a thought-provoking masterpiece" by RT Book Reviews and "a fast-paced adventure" by Kirkus.
His newest novel, THE JERICHO DECEPTION, explores how a secret CIA mind-control operation in the Egyptian desert threatens to start a modern-day Holy War.  Bestselling author Douglas Preston calls it  "a ripping good novel," while Steve Berry describes it as a "gritty thriller."
The Jericho Deception asks a powerful question, "What if you controlled the power to see God?"
What I like about this Yale and Harvard Law School grad is his tenacious focus on research — everything from visiting place, to interviewing people, to doing significant background reading.

"Jericho Deception came from an idea inspired by Wired Magazine – about a neural scientist in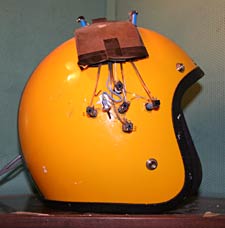 Canada who developed what he called the God helmet – that induced mystical experiences. How could that be used in a negative way? I used that real technology in my novel. Then it's a matter of weaving research in where it's integral. You have to be sneaky – have your characters using technology  / research it just flows with the story. You don't want it to be a research dump.
Below, Jeffrey shares nine tips he's learned on the road to achieving his literary dream.
#1 The second book is easier.
"It took me six years to write and get published the first time. After many heart-breaking rejections from both agents and publishers (including landing a big NY agent who couldn't sell the book to a major publisher as he'd expected), mind-numbing rewrites, and endless waiting for responses, I finally got a publishing deal from a small press excited about my book.While writing JERICHO went more smoothly because I avoided many of the rookie mistakes of the first book, I still spent three years (working part-time) researching, outlining, writing, and rewriting. And did I mention rewriting? The easiest part of writing a novel is coming up with a cool idea for a story. The hardest part is finishing the first draft."
#2 Your editor is your best friend.
"

For both of my novels, I used professional editors, or as they are sometimes called, book doctors. These women provided insight and discipline to my writing that went far beyond what I was able to do on my own, and I come with three Ivy League degrees!

In both of my books, I cut, added, and altered characters, scenes, and chapters—dramatic changes I wouldn't have had the stomach to make without the tough advice from my editors.

The key for me was finding someone who had worked at a big publishing house."
#3 Conflict is key.
"Readers keep turning pages because they want to know what is going to happen next to your characters. Conflict doesn't have to be physical or mortal; it can be psychological or romantic. Conflict can occur between characters or internally within a character. Whenever a part of your story seems to slow down (probably somewhere in the middle), examine each scene and see where you can add conflict. How are your protagonist's goals being thwarted? Put up obstacles. Have characters say one thing, but think something else. Try to begin each chapter with a question that draws in the reader. End each one with a mini-cliffhanger that forces the reader to continue to the next chapter. When it comes to conflict, the more the better."

#4 Story and character rule over theme and message.
"Because both of my novels revolve around philosophical themes and touch on issues of spirituality and religion, I struggled with this advice in my early drafts. Some tough advice I received early on was "if you want to educate people, write non-fiction." That axiom doesn't preclude fiction from being heavy with theme, symbolism, and meaning—most great fiction is—but the story and characters must be even more important. People read fiction to be entertained. Your characters must drive the story, bringing the themes along with them organically. The danger with violating this rule is that the writing can verge on pedantic and preachy, which will quickly turn off the reader."
#5 Details matter.
"

Do your research! Readers are willing to suspend belief (put faith?) in a novel when the author treats the non-fictional parts of the story with a journalistic care for accuracy. Then, the truly fictional parts of your story will seem much more plausible.

Being in the place lets you use all five of your senses — What does it smell like? What are the sounds? Adding this layer of detail lends a greater degree of realism to the writing.  Ask yourself, 'what are the crucial details?'  I try to make all the details realistic … even when writing fiction."
#6 Delete your adverbs.
"

This may seem picky, but it is an easy way to make your writing more powerful.

Highlight all your adverbs and get rid of most of them. Usually an adverb is telling you your verb isn't strong enough. Doing this can make your writing much more direct."
#7 Limit your PO to one character per chapter/section.
"Beginning writers often struggle with POV, and this struggle can make for confusing and disjointed reading. While there are many variations of types of POV a writer may use, I think that it is simpler for new authors to stick with either a limited 3rd person view or a first person view. I write in 3rd person limited point of view."
#8  Spend as much time marketing as writing.
"A lot of writers today don't realize the amount of time you  need to spend marketing your book. I've got 10k Facebook fans for my first book.  it's hard to rise above the noise today – self publishing – 100,000 books come out each year. Become a subject matter expert of what you're writing about; speak to groups in those areas of interest."
#9 – Keep writing!
"Writing is a craft – it definitely gets bettor the more we do it. it's something I do because I"m passionate about it. I do it because I have to – it's that creative juice in my brain that needs to be exercised.  The best advice I was ever given was from a woman who went to high school with me – a New York Times-bestselling YA author named Lauren Myracle. I spoke to Lauren when I was midway through rejections for The Breath of God and she said, 'Giving up is not an option.'"
About Jeffrey Small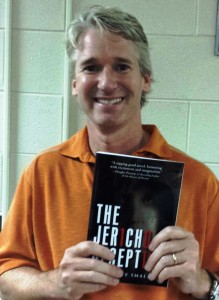 Jeffrey is a summa cum laude graduate of Yale University and a magna cum laude graduate of Harvard Law School. He holds a Masters in the Study of Religions from Oxford University. Jeffrey has also studied yoga in India, practiced meditation in Bhutan, explored the ancient temples of Egypt, and journeyed throughout the Holy Land. He is a thought-provoking columnist for the Huffington Post and also blogs at www.JeffreySmall.com.
An acclaimed speaker, Jeffrey has taught public speaking at Harvard, and lectured to thousands on religion and spirituality in the 21st century.
When not pursuing his passion for writing, Jeffrey is the founder and CEO of an Atlanta-based real estate investment company, MDH Partners. Among his eclectic hobbies, he is also a former U.S. champion amateur ballroom dancer with his wife, Alison. For more information, please visit www.JeffreySmall.com.