Non-fiction writers already know this: interviewing primary sources is an important component to book research. Even fiction writers do their homework by talking to people to help them establish a realistic setting or understand how characters thought or spoke according to time period. Also, research plays a crucial role to getting the dialogue right based on the character's profession, whether he is a sea captain, doctor, scientist, or detective. I always hear from authors to "write what you know."  I might add to that advice: "do your homework."
Here are my Top 3 book research tips. They're relevant regardless of your chosen genre, or whether your project is fiction non-fiction: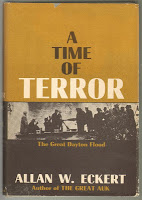 #1 Read as many books in your given genre as possible before you tackle your book. If you are focused on a period piece, read letters, official records and books of that period. Reading also will help you capture the language of your characters more realistically. I'm in the middle of researching the turn-of-the century in Dayton, Ohio, on the brink of a great flood. I just finished the definitive book on that tragedy and I also spent time at a corporate archive where I scoured newspaper accounts of the tragedy and letters from eye witnesses caught up in the flood.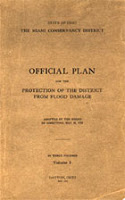 #2  Interview sources. I love this part of research probably because I interview people for a living. I always enjoy talking to individuals from all walks of life and learning something new. My first book, a memoir that told the stories of 19 mothers and daughters separated too soon from smoking-related illnesses, involved me interviewing the surviving daughters and one mother. I took a documentary, first-person storytelling approach setting the stage for each chapter with the circumstances of each daughter (or mother's) life. My book wouldn't have been possible without primary interviews. But even with my historical fiction project I am relying on interviews because the story details actual events and includes public figures who played integral roles in the flood response.  I interviewed a long-time Dayton Daily News columnist, whose grandparents were caught up in the flood and who has written about the flood for three decades. I also consulted with the chief engineer at the Miami Conservancy District, legislatively established in the aftermath of the Great Flood as part of the city's permanent flood control response.
#3 Establish place. Visit the location of your book — if it's your own backyard in the north Georgia Mountains or a family lake house, good. You don't have to travel far! But, don't take shortcuts and think you've captured the unique flavor of your book's locale if you haven't experienced it. If your setting is an old boarding house, stay at one (find a B and B with the original mason work and creaking floors).
Author and writing coach  Jedwin Smith advised me on my trip back to an old house in Dayton's historical district to look at the direction in which the sun rises and sets, to study the texture of the walls and the wood, and to memorize the views from each window, especially those on the upper level. If your setting is a period house, go room to room and close your eyes and try to imagine what the room felt like back during the time of your book — what kind of furniture was there? What the lawn was like—figurines, shrubs, flowers, the car that would have been parked outside?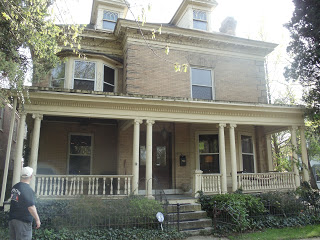 My great grandparents' home in downtown Dayton during the turn of the century.
"Whenever visiting historical sites, I always allowed myself to step back in time; imagining what I would have done, how I would have felt. This helped greatly, for no matter how much time has elapsed between the event and today, emotional reactions are pretty much the same. So in that regard, trust your heart and your instincts," Jedwin says.
If your book is set in another realm, establishing place is very much an exercise of your imagination but still you need to draw on inspiration from reality.
"The real world is a perfect place to find inspiration," writes David B. Silva, webmaster for
The Successful Writer,
in his 2007 blog post, "
Tips for Writing Your Fantasy Novel: Do Your Research.
"  "With all the pain and strife that surrounds the military conflict in the Middle East, there is a wealth of material out there dealing with various forms of heroism. What could you take away from these real life situations to build a story in your novel?"
Novelist, feature writer and critic
Russell Celyn Jones, director of the MA Programme at Birkbeck College (University of London), gives
expert video advice
on topics ranging from "Do I need to research my novel?' to "What kind of research should I do?" and "Is it possible to over research your novel?"