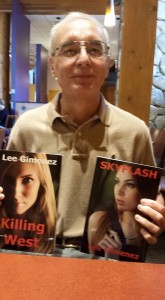 The inspiration for Lee Gimenez's first novel, Azul 7, was a SciFi short story that he first got published in Nature magazine.
"I was writing sequels to my short stories," recalls Lee, a retired technology marketing executive and military veteran. Lee says he always wanted to write books and began pursuing his craft in earnest back in 2006. He has published 11 novels over the last decade — the first five were Sci-Fi-based and the more recent ones fall under the genre of present-day mystery thrillers.
"I got to the point where I like writing about things happening now – real places," says Lee, who strives to publish one book a year.
His 2014 novel, Killing West, is about a CIA operative named Rachel West. "It was the first time I had a woman in the lead," he says.  "The reason I wrote it is that a lot of my readers are women – in fact, 75% of all fiction books are bought by women."
Common elements to all his books, which have a following in the US and internationally, are "a nice cover, snappy title and compelling characters."
One of his more popular characters is J.T. Ryan, an Atlanta PI, who does contract work for the FBI.
"I always begin with a 'What if' [scenario]," he says.  With Killing West, the 'what-if' question is: "What if a person controlled the internet?"
With his 2015 thriller, Skyflash, Lee poses the question, "What if there was a perfect wonder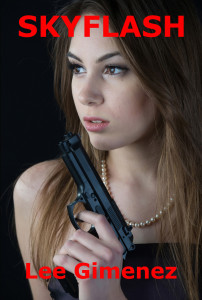 drug that could cure disease, old age — everything that ails humans?" Of course, there are some side effects with it, Lee adds with a chuckle.   "I try to have conflict at the end of each chapter and to cliff hang my readers at the end of each book (to set up the next novel)."
After crafting the what-if question, Lee writes a succinct synopsis of his novel.  "If you can capture your story in one or two paragraphs, you are a third of a way done," he says.
He's a big advocate of GMC: Goal, Motivation and Conflict book by established publisher and author  Debra Dixon, co-founder of BelleBooks/Bell Bridge Books.  Lee says he sets up his story on page 1 – often in the first line.
An MBA grad with a career doing marketing for companies like Verizon, Lee knows how important book marketing and promotion are – he's savvy and successful at garnering social media fans, recently crossing over the 47,000 threshold of Twitter followers.
"I attribute it to following other writers," says Lee, who has to limit his time on Twitter to a half hour a day if he wants to meet his writing deadlines. He advises writers to make good use of hashtags such as #books, #bookbloggers, #bookclub, #amwriting to get their tweets found by other authors, readers and book reviewers.  He's even created hashags for some of his more popular characters (#JTRyan).
"Marketing is one of the most important things you can do as a writer," he says. Lee is constantly thinking about his readers when considering the cover design and the titles of his books – he opts for shorter titles and one simple, dominant image on his book covers rather than elaborate scenes because people who are perusing books on Amazon will only see a thumbnail image of the book.  "You have to start talking about your book before it's out but that's a two-edged sword – pre-promotion to get people excited about your book, but it's important not to reveal too much or you risk someone stealing your idea."
He uses his own travels and experiences in technology to bring realism to his stories.  In SkyFlash, several scenes take place in Juneau, Alaska, as well as Colombia, places he's visited.   In contrast, Killing West takes place in Helsinki.  Lee says he enjoyed walking around the city and talking to lot of people to get ideas for his story – noting that it was easy to do so since a lot of people speak English.  Another city that factored into his writing was St. Petersburg, Russia, which he visited four years ago.   "When I write a scene about a place, I look at street maps and the intersections – I give it a page or a half page of description. It really helps add color and mood to my writing."
Lee is also a big believer in using all five senses in his novels – and he deftly integrates his characters' experiences through sight, touch, taste, smell and hearing into every chapter.
His final advice to aspiring writers? "Never give up. Even when things are not going the way you hoped. I had to send 86 query letters before my first book was picked up."
________________________
About the Author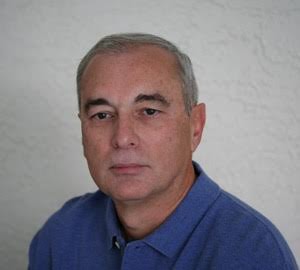 Lee Gimenez is the author of 11 novels. His latest thriller, SKYFLASH, was published in 2015 and is a new J.T. Ryan novel. Several of his books became bestsellers, including The WASHINGTON ULTIMATUM and BLACKSNOW ZERO. His thriller KILLING WEST was a featured novel of the International Thriller Writers Association. His books are available at Amazon, Barnes & Noble, the Apple Store, Books-A-Million, Books In Motion, and many other retailers in the U.S. and internationally. Lee is a member of International Thriller Writers (ITW) and the Science Fiction Writers of America (SFWA).
He earned a Bachelor of Science degree from Georgia Tech University and a Masters degree from Fairleigh Dickinson University. After college, he served as an officer in the U.S. Army. During his business management career, he worked for three Fortune 500 companies: Verizon, Tech Data, and M&M Mars. For more information about him, please visit his website at: www.LeeGimenez.com. You can also join him on Twitter (@LeeGimenez), Facebook, and other social media sites. Lee lives with his wife in the Atlanta, Georgia area.
Lee will be at this year's Decatur Book Festival being held in Atlanta Sept. 4-6, 2015, as a panelist on the Mystery Thrillers Panel.
Atlanta area writers can also sign up for his upcoming writing class, "Ten Steps to Writing a Successful Novel." The class will be held at the Jera Publishing office in Roswell, Georgia, on July 15th at 6:30 p.m. The cost is $10, and will feature tips and illustrated with writing examples from his own eleven novels and from bestselling authors such as Steve Berry, James Patterson, and David Baldacci.   For more information or to register, visit:  http://www.self-pub.net/blog/event/ten-steps-to-writing-a-successful-novel/.