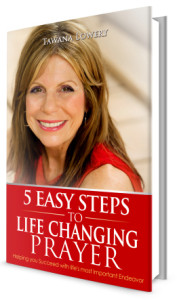 More than 75 percent of Americans believe in the importance and power of prayer. But, how many enjoy it, look forward to it, and feel equipped for the task?
That's the primary question Atlantan Tawana Lowery wants to answer with her new spiritual self-help book, Five Easy Steps to Life-Changing Prayer.
Based on her own struggles with faith and personal tragedy, the book serves as a heart-felt and engaging guide for those who want to pursue prayer practice using a proven process.  Tawana believes people first must give their burdens to God – and in the process, they will liberate their hearts and minds.
The part memoir, part spiritual coaching guide is chocked full of practical tips and inspiring stories targeted at "people who want to pray but don't feel equipped or don't believe their prayers matter," explains Tawana.
"It's for anyone who is hurting, wounded, exhausted and confused and need a way to connect with their creator for answers and solutions, or who feels lost, forgotten or disconnected and simply wants to connect with someone who cares about them," she adds.

Tawana frequently speaks at conferences and to groups about her book. The PR-trained entrepreneur and former single mother started her own company, Prayer Eagles, to provide team effectiveness training, community outreach strategies and prayer skills coaching.  In early August, she was a featured author at the She Speaks women's conference in Atlanta.
Below she shares more detail on her tightly interwoven faith and writing journey and what she hopes readers will get out of her book.
Q. What made you decide to write this book?
Tawana: In less than 10 years, I endured two bankruptcies, the loss of all my investment property, watched two business go belly up, dealt with years of unemployment, gave up three beautiful homes, moved 8 times, was blindsided by betrayal and experienced the death of  both parents. I like to describe it as a Financial Tornado, followed by an emotional Hurricane, followed by a personal Tsunami.
During those tumultuous years I was desperate to connect to God. Being a very practical, bottomline person I didn't want to wait for someone else or hope that a minister might accidently say something remotely related to what I needed to hear. There were days when I neede to experience God in less than 10 minutes or die. I seriously thougth about killing myself on numerous occassions.
Through that experience I began to notice ways I was sabotaging my prayers and what I could do to reverse it. Once I began to incorporate the principles I share in my book, dramatic changes took place in my life and my relationship with God. Soon I was able to hear God's voice with clarity, and experience his grace that enabled me to carry on. But it came about from doing what I share in my book on a consistent basis.
As I began to share what I had learned, others were also experiencing dynamic changes. So much so I was asked repeatedly to write a book about it. I even had one person tell me to quit my job and write a book so other people could know how to pray.
The truth is, most people want to pray. But they feel so ill equipoed they stop before they even get started.
What we pray about is already difficult. So why make the act of praying equally hard? My goal for writing this book was to offer an easy-to-understand prayer-coach approach to the most important and deeply personal activity of our life. I've tried to make it as easy and as simple as possible. I even included several plug-and-play tools that are easy to understand and easy to implement. Meaning you can apply what you learn to effectively pray about anything, any time, any place for yourself and others.
Q. What does success in prayer mean to people?
Tawana: For most people success in prayer means:
Ending the cycle of uncertainty and frustration that often describes most people's prayer experience.
Being able to improve your ability to hear God's voice and enjoy a stronger relationship with the person who loves you most.
Having insight to understand what brings about transformational thinking, rest for your mind and peace for your soul.
Knowing how to pray in a manner that produces lasting healing for wounded emotions and relationships.
And learning how to notice divine invitations for prayer you might be missing out on.
Q. Have you found that the topic of prayer is something that is a big issue for people? What has been the response to the book?
Tawana: The response has been very positive. So many people tell me that the book and my writing style have helped them cut through the complications of religious rhetoric so they can experience an easy, enjoyable connection with God. They tell me the topics and illustrations in my book address issues and problems they have struggled with. It gave them clarity and hope. It gave them a sense of being connected and understood.
Those answers don't surprise me at all, because the research supports the feedback I hear.  According to a 2012 Pew Research survey, more than 75% of Americans agreed that prayer is an important part of daily life. Surprisingly, that percentage has remained consistent over the past 25 years. Even among those who say they don't believe in God, 12 percent admit they pray, as reported in The Washington Post in June, 2013.
It seems a lot of us believe in the importance of prayer. The question is how many of us actually enjoy it? How many look forward to it? How often does prayer strengthen our relationship with God or make us feel more intimate with our Creator? As I said before, most people don't feel equipped for the task.
According to an Ellis Research survey for Facts & Trends, less than 20% of church leaders say they are satisfied with their prayer lives. That means close to 80% are either completely or partially dissatisfied with prayer. That's an astounding figure, yet probably very representative of most people.
I just don't believe it has to be that way. I found something better and my goal is to help as many people escape from Prayer Fail Jail as possible.
Q. What did you learn in the process of producing this work?
Tawana:  One of my biggest challenges while I was going through my seasons of difficulty was trying to make sense of it. I was plagued with the thought that my trials would be in vain unless something beneficial came out of it.
During the process of writing the book, I began to see the upside to all the downside. What I learned about God and prayer during those painful dark days laid the foundation for my book.  My prayer is that it will strengthen the foundation of other people's lives as a result.
Sometimes we try to put as much distance as we can between ourselves and our painful experiences. That's what I was trying to do. And moving forward is important. But the trials are important also. They have value because they show us what where we have need, and that's a good thing. It makes us human.  It makes us real. It makes us relatable. It gives us a story to share.
Q. What lessons learned can you share with other writers of non-fiction/memoir type writing?
Tawana: My advice would be to share your story because it's yours to share. It means you value your own journey enough to write about it.
Q.What was the hardest part of this experience? The best part?
Tawana: Because I also work a full-time job, I had to write on weekends and holidays. My schedule was very strict so as to maximize the time. But it was something I always looked forward to.  It was also a challenge to curate years of experience in to something simple and consumable.
The best part was knowing that I was giving others something to help them; knowing that I was making a positive impact on the world and sharing my struggles with others in hopes of inspiring them to persevere.
I'm often referred to as "The Prayer Chick." It started by praying with a porn operator who had no hands.
The truth is I love to pray with anybody about any issue. I'm not easily offended. People trust me because I can relate to their pain and struggle without judging them. I truly believe that comes across in the book. People feel connected to me and they know I understand their struggles because I've lived them.
Q. What's next for you?
Tawana: I am considering investigating the possibility of hosting a women's conference of my own in the fall of 2016.
About the Author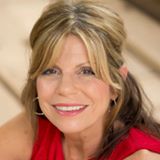 Tawana Lowery is following her true passion as a writer, inspirational speaker and prayer coach. Her debut book, 5 Easy Steps to LIfe Changing Prayer, was published in May 2015. As founder and director of Prayer Eagles, she enjoys helping others succeed with prayer and in their relationship with God.  Visit Tawana on her website, www.PrayerEagles.com, or follow her on Twitter at: https://twitter.com/@prayereagles/.