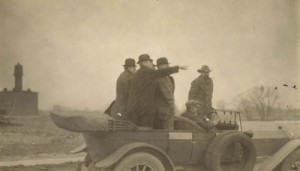 It's April 1912.
Able-bodied seaman Kieran Gregor survives the sinking of Titanic ravaged by guilt and the horror of what he witnessed.
Anxious to start over, he accepts a job with his uncle in Dayton, Ohio, taking a room at a boarding house downtown. There, he meets Hannah, the eighteen-year old daughter of the boarding house operator. She's Protestant and he's Irish-Catholic, but that doesn't stop sparks flying from the moment they meet.
Kieran soon must confront the demons of his past when a catastrophic flood slams through the Ohio Valley, putting the city's residents and the boarding house's inhabitants in peril.
Told from the point of view of these strong-willed characters, Torrential weaves in historical details of two horrific disasters, while bringing to life a city known for its bustling innovation and aviation firsts at the turn of the 20th century.
TORRENTIAL is the first historical novel of Dayton native Anne Wainscott-Sargent, who grew up hearing stories about the flood from her grandmother, a flood survivor. Please connect with Anne through one of the social links below to keep up to date on her writing milestones or publishing news on when her book will be available.
Photo credits:
Header image: Dayton Public Library
Background image: April Gornik's "The Horizon"
Blog header: Eduard Cristea