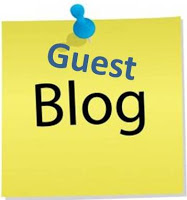 I'm excited that The Writing Well will host three guest posters in the near future — starting with a publishing entrepreneur next week. My participation in the 2011 Wordcount Blogathon (where I'm posting daily over 30 days) has inspired me to bring other viewpoints to my blog.
Writing Forward, a creative writing blog by website designer and copywriter Melissa Donovan, provides excellent guidelines for guest posters listed in the top navigation of her blog. The guidelines cover everything you need to know — from the preferred format to send submissions, to the types of articles accepted, to whether you can expect payment (no). The site itself is excellent resource for anyone wanting to strengthen their writing and grammar.
Gardening and writing blogger Stephanie Suesan Smith shares proper etiquette to going about being a guest blogger in her May 5th post, Crafting a Guest Post Query. She compares it to querying a magazine about an article. She covers the importance of outlining your qualifications to write a post, and the need to demonstrate how your topic would appeal to the blog's audience. Stephanie even tackles the thorny issue of copyright.
In his "guest" Copyblogger post, 10 Proven Steps to Snag a Guest Post on an A-List Blog, professional stand-up comedian Jordan Cooper urges you do your homework (reading up on the target audience, the guest posting guidelines, and of course, the content) and then write the post, including crafting a creative post title that looks appealing and clickable. Cooper also advocates not only submitting your fully crafted post, but also recruiting a fellow blogger who follows the A-List blog to put in a good word about your guest post. No guts, no glory, as they say.

All great advice…Here are four tips for making your blog guest-blogger friendly:
1. Spell out your blog's mission so contributors know what you're about.
2. Accept guest posts that resonate with your audience and fit your focus.
3. Include blog submission guidelines — don't make 'em guess at it.
4. Seek original posts, not re-purposed content.