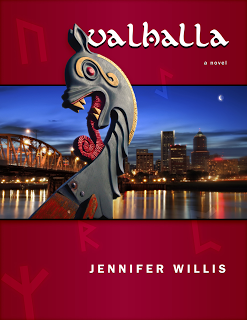 Cover photo by: Rachel Hadiashar
"I'm not experimenting, Opal. I know what I'm doing."
"Umm… Yeah." Opal glanced at Sally's burnt thumb and then at the wrinkles on her face and the streaks of gray in her hair. "If you say so. But what I was going to say is that I've been casting spells for a lot longer than you, and nothing like this ever happened to me."
"Yeah, I get it. I'm cursed. I'm a horrible witch. Instead of calling it Odin's Spell of Magickal Return, maybe I should rename it something like Wrinkled Sally's Spell of Outrageous Doom."
                                    — Chapter 5, "Valhalla," by Jennifer Willis

Given the phenomenal success of the Harry Potter franchise, the Twilight Saga and The Hunger Games, it's not surprising that two of the hottest writing genres today are fantasy and young adult. Jennifer Willis, a fellow WordCount blogathoner, has combined both beautifully in her action-packed YA urban fantasy, "Valhalla," which was released in April 2011.
"My fiction-writing interests include kooky stuff — frustrated witches, vampires, old gods having to work as photocopier repairmen," says Jennifer, who originally drafted "Valhalla" in November 2008 during National Novel Writing Month. This writing challenge, known by the acronym NaNoWrMo, pushes participants to crank out a 50,000-word novel from scratch in a month's time.
Jennifer currently is revising "Iduna's Apples," the second of what will be a four-part series for "Valhalla," which she hopes to publish this summer.
"Valhalla" opens with 16
-year-old Sally Dahl, a rare, modern-day Norse Witch with more power than she realizes. Playing sick from school in Portland, she's casting rune spells during a rare astronomical convergence to bring about a better, happier planet — and hoping her parents don't find out.
What Sally doesn't know is that the Norse gods are still around, albeit without their divine powers — Odin is a high school principal, and blustering Thor is about to lose yet another job as a photocopier repairman. But Heimdall has the perfect cover as a forest ranger while he and his kin hunt for the newly reincarnated World Tree and try to prevent Ragnarok, the literal end of the world that could be timed to the same alignment of stars.
Instead, Sally stumbles across Managarm the Moon Dog, a lost god who seems desperate for her magickal help. But does he really share Sally's vision of a more peaceful world, or are his intentions much, much darker? And what can she do about the ancient Berserker warriors she accidentally calls up, who pledge their allegiance and then demand junk food runs to Voodoo Doughnut and Burgerville?
What sparked the idea for "Valhalla?"
I'm afraid I don't recall when the full idea really congealed. But I do remember being in the car one day as I was out running errands and suddenly thought, "Wouldn't it be funny if the thunder god Thor had to get a job as a photocopier repairman?" I didn't know all that much about Norse mythology at the time, and I let the idea sit for a bit until National Novel Writing Month drew near again. I did a bit more research, brainstormed with another writer friend to have the Yggdrasil be central to the story, and just went exploring from there.
Who is your favorite character and why?
Probably Freya. I love how grounded and reasonable she is, even with her mystical strengths.
What was the most challenging aspect of writing this story?
I'd have to say the third rewrite was the biggest challenge. I retooled pretty much the entire story, eliminating a number of characters and introducing new ones. For instance, Sally—the 16-year-old witch who is central to the Valhalla story—started out as a fifty-something church secretary, if you can believe it.
What do you hope readers will get from reading this book?
Honestly, I just hope readers will have fun with the story. Sure, there's probably a moral in there about not being afraid to reach out for help and about having the courage to face your fears, and possibly a warning against arrogance, but mostly I wrote Valhalla as a playful story that readers of nearly any age can enjoy.
Was this a departure for your other writing projects?
Yes. My previous novel (Rhythm, released in 2001) was much more serious in tone, and while I make my living as a writer, most of that work had been of a technical and journalistic nature up to that point. I'd not written true urban fantasy before, and I've found that I like it quite a bit.
What fantasy books/authors have been an influence in your writing?
I do read a lot and often am immersed in multiple titles at a time. My favorite author is Kurt Vonnegut. These days, I also read a lot of Arthur C. Clarke, Jim Butcher, Carrie Vaughn, Robert J. Sawyer, Orson Scott Card, and Libba Bray, and I have recently discovered authors like Octavia Butler and John Scalzi.
Any advice to writers who want to write YA and fantasy? 
I think one of the biggest hurdles to new writers is simply getting started. If you're interested in trying your hand at novel-writing, I highly recommend giving National Novel Writing Month (
nanowrimo.org
) a shot. It comes around every November and challenges participants across the globe to pen a first draft (50,000 words) in 30 days. This offers both a framework—e.g., structure, deadline, etc.—for doing the work, as well as worldwide support (and commiseration) through the online forums.
Other than that, another key piece of advice would be this: READ. Read anything you can get your hands on. Branch out and pick up a title by a new author. Figure out what you like and what you don't like about the stories you're reading and the styles in which they're written. Let your own voice emerge from there.
Do you recommend that writers go straight to e-publishing, or do a combination of traditional print/e-publishing?
That's really a personal decision, and a lot of it will be based on an individual writer's immediate circumstances as well as his/her long-term business and writing goals. I chose e-publishing for Valhalla because of timing. In the early months of 2011, the manuscript was making the rounds with various agents and publishers and was getting positive feedback, but then I found out about the Thor movie that was coming out that spring. I realized that even if everything moved smoothly with traditional publishing, I was looking at probably two years before Valhalla hit bookstore shelves. If I wanted to take advantage of the unforeseen coincidence of the movie's release, I had to move immediately.
Both of my novels are available as e-books and in print. Not everyone has—or wants to use—an e-reader, so I do advise that self-published e-books be supplemented in print by setting up a print-on-demand title via a service like CreateSpace or Lulu.
There are a number of established, "traditional" authors who make a strong case for indie publishing—not the least of whom is J.A. Konrath (read his "Newbie's Guide to Publishing":
http://jakonrath.blogspot.com/
). The industry is very much in flux right now, and it will take a while for things to shake out, but I do believe that the new opportunities for both emerging and experienced writers to do publishing independently will benefit storytelling—and readers—in the long run.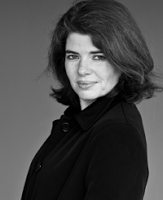 About Jennifer Willis
A native Virginian who makes her home in Oregon, Jennifer Willis tends to write stories set in one of these locales.  She's also a freelance journalist and essayist, whose byline has appeared in
The Oregonian, The Christian Science Monitor,
Salon.com
,
The Portland Tribune, The Writer, Ancestry Magazine
and other online and print publications at home and across the globe. Reach her on her
website
or follow her on
Twitter
.