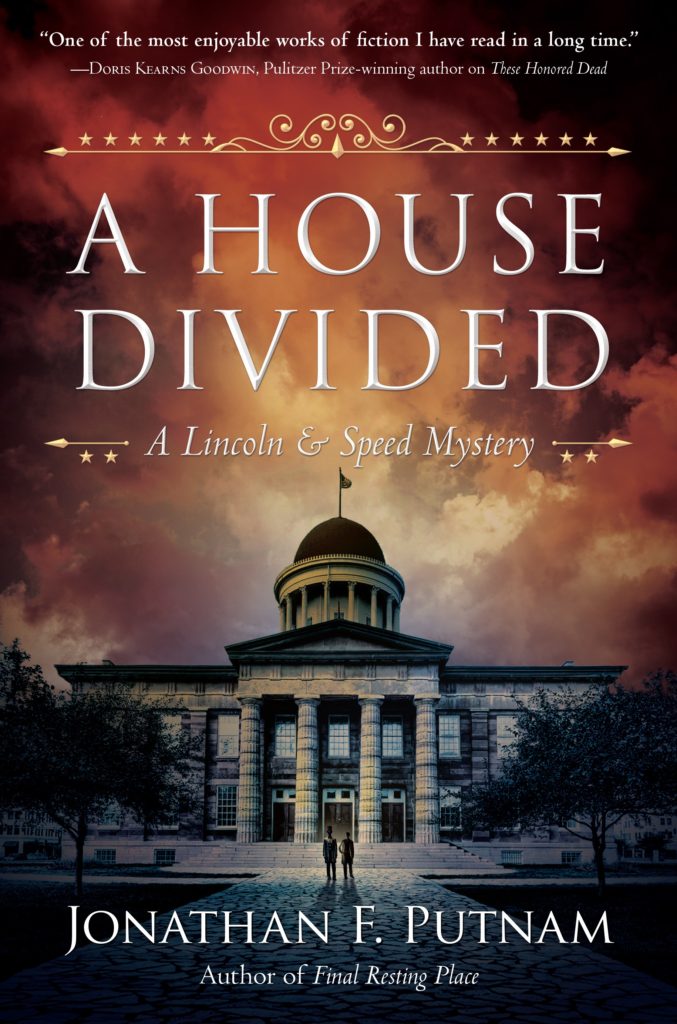 Lincoln scholar Jonathan F. Putnam has just released his newest Lincoln & Speed mystery novel, A HOUSE DIVIDED, available for order today.
Set in Springfield, Illinois, during Lincoln's time as a frontier trial lawyer, the series has already captured the imagination of mystery fans and history buffs alike, including Doris Kearns Goodwin.

The novel retells the story of the greatest unsolved murder mystery from Lincoln's actual law practice, a case in which a man accused his two brothers of murder, even though the corpse was nowhere to be found. Of the real-life legal case that inspired the mystery story, Lincoln later wrote, "It may well be doubted whether a stranger affair ever really occurred."

A HOUSE DIVIDED also marks the appearance of a beautiful, intelligent young woman named Mary Todd. Few figures in American history are as misunderstood as Lincoln's future bride and First Lady.
Below, he shares with The Writing Well his writing process for his latest book,
Q. What inspired you to feature Abraham Lincoln and Joshua Speed, a close friend from his Springfield, IL days, in your historical mystery series?
As a long-trial trail lawyer (for a large New York City law firm) and lover of history, I was fascinated by the young Abraham Lincoln in the period of his life when he was just starting out as a trial lawyer on the frontier, in Springfield, IL, long before he became a famous politician. Then I learned that he shared living quarters for four years with a well-born Southerner named Joshua Speed, who had come from a wealthy, slave-owning family in Louisville. The two men, I discovered, became close lifelong friends. I realized I could tell the story of young Lincoln through the eyes of his best friend Speed.
Q. What kind of readers does your series attract? How do you reach them?
Hopefully anyone who enjoys an entertaining murder mystery with a dollop of real-life history. As you know, I do a lot of in-person book talks at historical societies, libraries, bookstores and the like. I love sharing my passion for history and the relatively unknown time period of the American frontier in the 1830s.
Q. Having attended your author talk in Lawrenceville, GA, I know you painstakingly research your time period to make your stories come alive with history. What is your research process?
I try to do as much original research as possible in order to bring to life the frontier and this time period in Lincoln's history. I've done research at the Lincoln presidential library, the Speed family estate (Farmington, now a historic site), and the Mary Todd Lincoln House in Lexington, Kentucky. I've visited all of the locations around the Midwest where my books are set. I've tracked down dozens of travel diaries from the period, where visitors to the frontier recorded their observations about how the area looked, smelled, tasted, etc. I've spent countless hours looking through the records of Lincoln's actual legal cases in order to pick out ones on which to base my mysteries. I've also read many, many non-fiction books about Lincoln.
Q. What was the most interesting kernel of history that you uncovered in your research into the courtship of Lincoln and Mary Todd, the subject of your latest book? Do you think history has been kind to the Lincolns or accurate?
In my new book, A HOUSE DIVIDED, a big part of the story revolves around Mary Todd, who shows up in the book, as she did in real life, in Springfield in late 1839, having moved in with one of her elder sisters, Elizabeth. In my story, as in real life, Mary is a huge hit in Springfield as a whip-smart, beautiful, and highly political young woman. (This latter point was particularly important, as Springfield was the new state capital at the time.) Mary had a great many suitors, including both Lincoln and Speed. In the book, we see the two men fight over her hand even as she helps them uncover essential clues toward solving the murder mystery.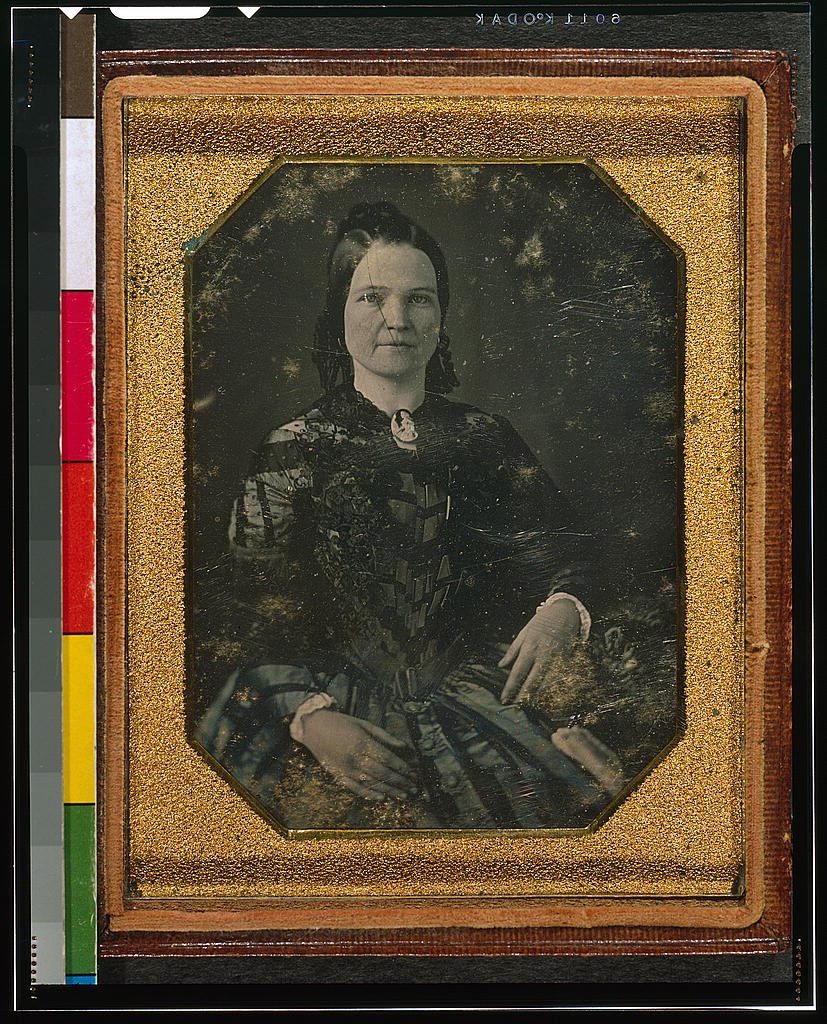 As I did my research for the book, I came to realize what an unfair reputation Mary has in history. While Lincoln is one of our most beloved presidents, Mary is one of our least popular first ladies. But the Mary Todd who appeared in Springfield in 1839, and shows up in my book, is a complete stranger to her historical reputation. In fact, in real life, Mary's family was strongly opposed to any potential match with Lincoln on the basis that he was unmannered and without prospects. (Mary, by contrast, had come from a prominent Kentucky family; her father, Robert Todd, was president of the Kentucky State Bank.) Mary herself was in no hurry to get married, although this had less to do, I think, with Lincoln specifically than with the fact that married women at the time had very few legal rights or options. Well-to-do young women — that is, women who did not have to marry for financial reasons — tended to put off marriage for as long as they could.
Q. What can you tell us about your writing and editing process? What is the most challenging aspect of going from idea to a publish-ready novel?
I am pretty disciplined about writing five days a week. I don't have a set word count per day or anything like that — if I have a few good hours of writing in the morning and a few more in the afternoon I consider it a successful day, whether I've advanced the manuscript 500 words or 1500. I heard someone say at a writers conference recently that skipping one day of writing means missing an opportunity for a small break-through, and skipping two in a row means missing the opportunity for a large one. I think that's a great way to think about the process.
It usually takes me about a year to write a book. I have four long-time readers (two men and two women) who have very graciously agreed to read drafts of each of my novels and give me their feedback. They are invaluable to me. Also, my wife, Christin, is the first and last reader of every word I write. It's a difficult position for her, giving me substantive input while still being supportive of the creative process (and divining which of those I need at any given moment!), but she's very good at both parts of it. Which is why we've been married for so long, I guess!
Usually I start out knowing how a story begins and with some sense of how it ends. It takes me a while to figure out the path from A to Z. And then takes me even longer to realize that that initial path doesn't work and I need a different one.
Q. How has your writing changed from when you began four books ago to where you are today?
Hopefully I'm a much better writer! Certainly I feel like my storytelling has improved with each book. And I'm much quicker now to realize when an element (character, plot point, surprise, etc.) is not going to work with the rest of the story and to change course, rather than becoming committed to the idea, and spending a lot of time on it, before realizing I need to change it.Many attorneys become successful authors.
Q. How has your legal background helped you embark on a career as an author?
As a trial lawyer my essential job was to tell stories to the judge and jury. I took the available facts and shaped them into a narrative that was as favorable as possible for my client. I'm still a storyteller, but now rather than telling my clients' stories I tell my own. Also, my background as a trial lawyer gives me insight into Lincoln as a lawyer and definitely informs my courtroom scenes where we see him stand up and argue for the lives of his clients.
Q. Any tips for first-time authors — on how to make their stories believable and engaging?
I honestly wouldn't worry about the 'believable' part – readers are very willing to suspend disbelief in order to get lost in a good story. We need to make an emotional connection with your story — either your characters or the stakes (or, ideally, both). We have to care about them, just as we care about people and issues in real life.
About the Author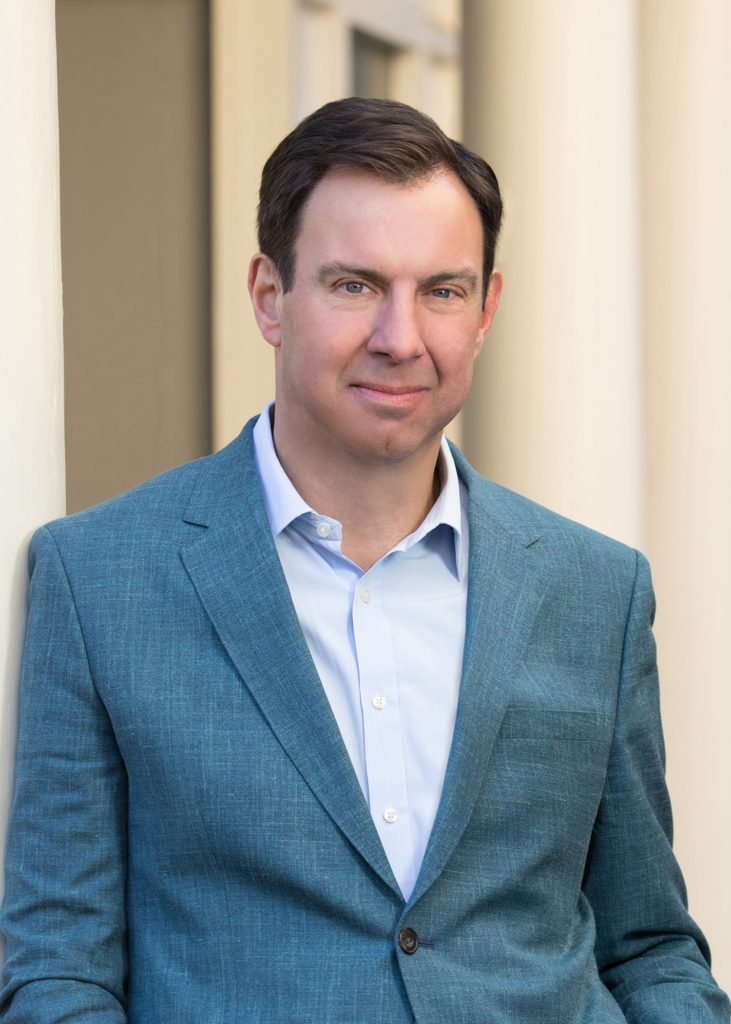 Jonathan F. Putnam is a writer and attorney. A graduate of Harvard College and Harvard Law School, he is a nationally renowned trial lawyer and a recognized Lincoln scholar. The books in his Lincoln & Speed Mystery series include A House Divided (July 2019); Final Resting Place (2018); Perish from the Earth (2017); and These Honored Dead (2016). Jonathan has given lectures about Lincoln to historical societies, libraries, schools, civic organizations, and lawyer groups around the country.
Find out more at www.jonathanfputnam.com. Follow Jonathan on Twitter at @Speed_Lincoln; Jonathan F. Putnam, Author on Facebook; and @jonathanfputnam on Instagram.